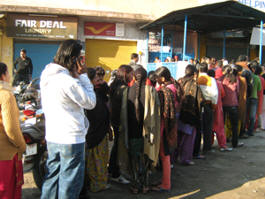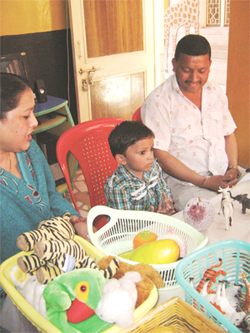 Admission is open to all without any distinction of caste, creed, colour or religion.
Registration for admission to the various classes is open from middle of January. It is to be noted that registration, though being a precondition for admission, does not mean definite admission.
Registration entitles the child to appear for the selection procedure. Once the name is registered the registration fee is not refundable, regardless of whether the child appears for the selection or he/she is admitted or not.



Playgroup:          Age as on 1. July   :      3+
Nursery :           Age as on 1. July   :      4+
Kindergarten :  Age as on 1. July   :      5+


Assessment for admission is normally by informal interaction conducted between the Head of the School, the student, both the parents and the care takers. The interaction is conducted in a way that demonstrates the prospective student's personality and capabilities.
The school is committed to admit any child who clears the interaction, provided there is a vacancy. When there is no vacancy in the desired class, successful students will be placed on a waiting list and considered for the first available slot.
A student joining for the first time, must produce satisfactory evidence of his/her date of birth such as an extract from the Birth and Death Registrar of the Municipality or Gram Panchayat. The name and date of birth of a student will not be changed once entered into the registers of the school.
No correspondence will be entertained in connection with the admission of students who do not prove themselves at the time of assessment. We do not have any special quota or reservation for any community. Admission is open to all irrespective of class, creed or community.
No seat is reserved for transfer cases in the midsession.
Rules and regulations are subject to change at the discretion of the school. The admission of a child means the parent's / guardian's complete acceptance of all school rules in force or as amended from time to time. The school reserves the right of refusing admission / readmission without assigning any reason for doing so.
Fees for the whole session are charged for a mid-session admission.
Every application for a Transfer Certificate is to be made in writing by the parent or guardian. A Transfer Certificate is not issued until all the fees are paid. A fee of Rs. 100/- will be charged for a Transfer Certificate. The certificate will be issued only three days after receipt of an application. Any certificate i.e. Character Certificate, Fee Certificate, Date of Birth Certificate etc. from the school office can be provided if an application is made to this effect three days in advance and a payment of Rs. 20/- is made at the accounts office.
A month's notice in writing is required before a student can be withdrawn during the academic year. In lieu of such a notice a full additional month's fee will be charged. No notice is accepted during the school vacation.